A Music Landmark

The Music Connection building at 3086 Bechelli Lane has been a local music landmark for over 40 years.

Read More
Schedule a Lesson

For lesson information or to schedule a lesson with a professional instructor, please call us at 530.223.2040.

Read More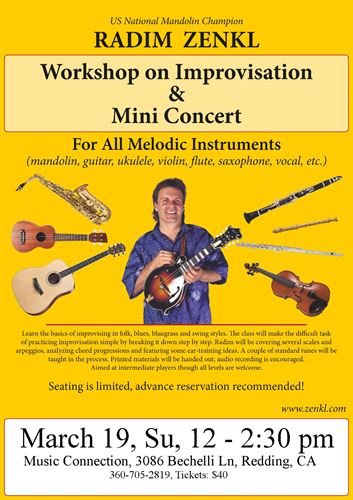 Professional Instruction

Instruments & voice - all ages, beginner to advanced - add styles, country to classical.

Read More
Rentals

Rent your instrument from Music Connection. All rentals are professionally maintained and guaranteed.

Read More
Fine Equipment

New, used and rental instruments for whatever music you're making, plus fretted instrument repairs.

Read More
Rent-to-Own

Your monthly rental payments can apply toward the purchase of a new instrument of the same type.

Read More
Improvisation Workshop with Radim Zenkl
& Mini-Concert

For all instruments, even vocalists!
(mandolin, guitar, fiddle, flute, clarinet, piano, vocal, etc.)

March 19 (Su), 12:00 - 2:30 pm

Music Connection, 3086 Bechelli Ln, Redding, CA, (530) 223-2040

Seating is limited. Advance reservation recommended!





Main topics:




1) Improvisation - step by step system on how to practice improvising in various music styles




2) Get the most out of your practicing




3) Overcoming the stage fright




Learn the basics of improvising in folk, blues, bluegrass and swing styles. The class will make the difficult task of practicing improvisation simple by breaking it down step by step. Radim will be covering several scales and arpeggios, analyzing chord progressions, arranging a tune, and featuring some ear-training ideas. A couple of standard tunes will be taught in the process. Printed materials will be handed out, audio recording is encouraged. Aimed at intermediate players though all levels are welcome.